Over $300k in Scholarships Awarded
The Legacy of Love Foundation, Inc. has provided more than $300,000 in scholarships to college-bound students throughout the Greater Philadelphia region.  In 2022, a total of $22,000 in scholarships were awarded to college-bound and graduate school students.
CHAPPELLE ABNEY
KIPP DuBois Collegiate Academy
Franklin & Marshall College
Majoring in Pre-Medicine
Dr. Anne Adderley Scholarship
ERIKA BUTLER
String Theory Performing Arts Charter School
Cedar Crest College
Majoring in Nursing
Ronnie Collins Scholarship
MAKENZIE COLE
Parkway Center City Middle College
Cheyney University
Majoring in Pre-Nursing
Flora Dorsey Young Scholarship

KARYME FONT
Arts Academy at Benjamin Rush High School
Pennsylvania State University
Majoring in Communication Sciences & Disorders
Vivian Barrett Scholarship
JAKHI GREEN
KIPP DuBois Collegiate Academy
Duke University
Majoring in Mechanical Engineering
Kenesta Mack Scholarship
KAYLA ROBY-BROASTER
Freire Charter High School
Howard University
Majoring in Nursing
Charisse Lillie Scholarship
CHARLESSE SMITH
KIPP DuBois Collegiate Academy
Lycoming College
Majoring in Psychology
Doris Shirley Scholarship
Legacy of Love Foundation, Inc. Community Grants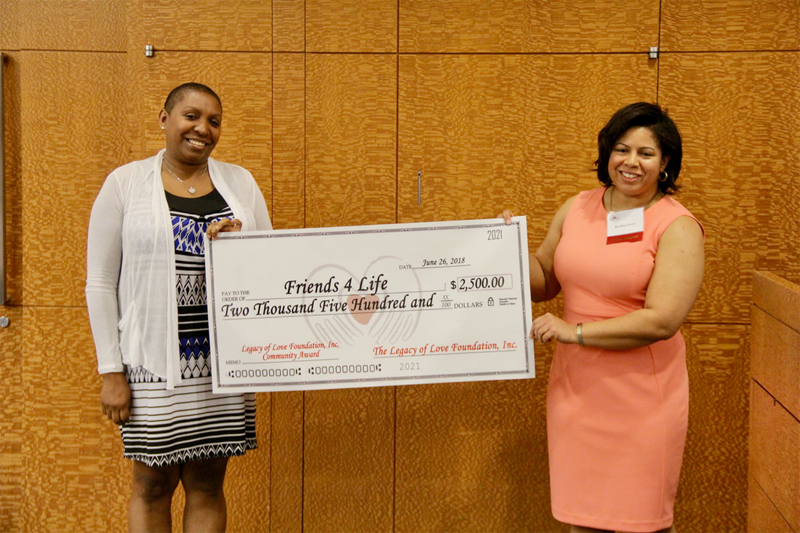 The Legacy of Love Foundation, Inc. through the donor-advised fund, has presented grants to more than 50 nonprofit organizations meeting the needs of children, adults and families in the areas in which we place high importance – physical and mental health, economic empowerment, educational excellence and the arts.
In 2022 – We awarded $6000 in grants to the following organizations: